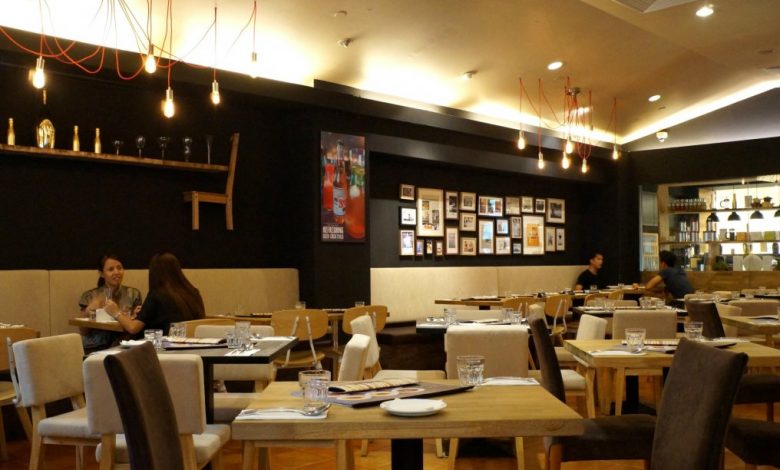 A halal cafe in Bugis, Singapore offers great food to its visitors. Located just opposite Orchard Road shopping centre, the Halal Cafe in Bugis attracts a varied visitor base, mainly of the Muslim community. Stylish brasserie in the historic Millennium Times Square serving traditional Asian-style sips & Singaporean delights. The bar is open to non Muslims for breakfast, lunch & dinner.
Traditional Thai Food
The food is served in a traditional Thai way using local ingredients. Many dishes are served with rice and curry. There is no beef or pork. Chicken or fish is usually available on special request. English breakfast & lunch menus are available containing dishes such as Indian-style curries or kebabs, traditional Chinese dim sum, Thai or Indian curries and many local favorites such as Char Kway Teow, Satay, Chili Crab and Chili Pepper Crab.
Specialty dishes include Halal Pork, which is marinated in garlic, ginger and wine for three hours before it is cooked to perfection. Another popular choice is their signature chicken salad which is marinated in lime juice, spicy mayonnaise, coconut oil, chicken, calamata olives, tomatoes and eggplant. This salad can be accompanied with dessert which is another local specialty, Ginger Beer. Other popular cafe treats include Halal-style bread and freshly made coffee.
Range of Halal Cuisine
The cafe offers an extensive range of halal cuisine which has been carefully prepared by trained staff. All the food is served in stainless steel pots and cups. The use of metal utensils is preferred since the hot spices in the ingredients can burn your finger. The coffee is also prepared using Arabica coffee beans that yield a very mild coffee that doesn't add any extra calories. The restaurant also serves an extensive array of local alfalfa pickles and juices, and halal pickles prepared by a specialist team of chefs.
Guests can also try Bugis signature desserts such as Handmade Strawberry Rhubarb and Totonne. These delicacies are made using fresh fruit and are combined with traditional Arabic flavors. Almondine with lemon zest and raspberry jam is another dessert that you won't want to miss. You can also enjoy homemade gelato which is made from crushed ice that is served in special aluminum pots.
Desserts & Specialty Coffee
The Bugis Cafe offers a wide variety of delicious desserts and specialty coffee. You can choose from the Baklava or Lemon Charming Tarts and Pecorino. Baklava is a rich, fluffy dish made using chick peas and flour. It is then topped with milk and seasoned with parsley, mint and rosemary. Pecorino is a traditional Italian pastry made of egg yolks, cream and chopped fruit.
Bugis Cafe Lovely Terrace
The cafe has a lovely outdoor terrace where you can enjoy your morning coffee and snacks. This area also doubles up as a great place to go and watch the locals doing what they do best. Tourists can take in the sights and sounds of the town during their time there. During the day, you can wander through the ancient streets lined with old shops, cafes and restaurants. On the second Saturday of each month, the cafe hosts a free classical concert in the garden.
If you are looking for somewhere to eat, then this is it. The Bugis Cafe has all the charm and local flavor you would expect from a family restaurant. It is perfect for a romantic date or a fun night out with friends. Whatever your taste, you will be sure to be pleased by the food and service of the Bugis Cafe.
Pastitsada Dish
The Bugis Cafe also serves some delicious local delicacies such as Pastitsada, a dish made from potatoes baked with garlic and fennel seeds. It is then accompanied by some local Spanish beer. Pastitsada is served all day, while other dishes are usually available for breakfast, lunch and dinner. You can also try a delectable dish known as "Airen" which is made of rabbit's livers cooked with wine. You can also order an array of fresh seafood such as lobsters, crab, mussels and other shellfish off the menu.
History of Bugis Cafe
The Bugis Cafe also offers its patrons a chance to learn about the local history of the area. Every March, the cafe holds a special event for students and tourists interested in the local history. In this event, groups of students with books will be taught about the Spanish occupation of Bugis, how the city came into being and the eventual impact of Christianity on the community. This presentation, called "Vera y Vida" (Voice and Life), is organized by the Iglesia De San Diego.
Relaxing Atmosphere
In addition to having an excellent array of delicious dishes, the Bugis Cafe also offers a relaxing atmosphere. The cafe offers two different types of outdoor seating: one is situated at the beach and the other is located at the edge of the bay. Both offer beautiful views of the bay and the Mediterranean. The beach has an exquisite view of the peaceful town of Soria and the surrounding countryside. The patio area provides a relaxing area for afternoon tea or coffee, complete with an umbrella stand and tables.
For more valuable information visit the website https://techlytical.net/