Business
3 Steps for a Successful Trade Show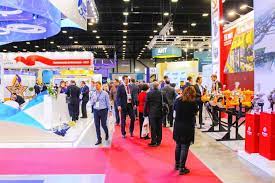 Participating in trade shows is something that takes up a lot of time and effort. There is so much preparation that is involved. As a business owner, you would naturally want to make sure that the investment that you are putting into the show is one that will be worth it in the long run. This can be a difficult balance, especially if you are a new business owner participating in your first trade show. Although it may seem to be very daunting there are things that you can do in order to make sure that your trade show is successful. In this article, we are going to talk about three tips that will help your trade show be successful.
Take the Time to Research
One thing that you should do before participating in any trade show is to take the time to research. There are a number of things that you could research, and some of those things include researching the trade show that you will be attending. This may look like researching what companies have been there in the past, and how well they have done. The next thing that you should research are the events that you will be attending. It is important to know the costs of any event or accommodation that you will be staying at through the duration of the event. Lastly, you will want to research the amount of booth space that will be available. At large trade shows, there will be many trade show displays. It is important to know just how much room you will have for your display, so you can plan accordingly.
Set Goals
If you and your team have no purpose or goal that they are working towards, then you will not see success, just as in life, there needs to be a goal in order to measure the results or to see improvement, the same principle applies to trade shows. Setting these goals will allow you to see how well you are doing, and just how much progress is being made. The goals that you set for your trade show will most likely align with the goals of your marketing department. These may include networking, finding a new supplier, giving away all of your promotional items, or collecting a certain number of leads at the show. No matter what you would like your goals to be, it is important to make sure that you are setting goals so that you can see how well your team is doing.
Don't Forget to Follow Up
A critical thing that you cannot forget to do is to follow up with any leads that you received from your trade show. These leads are potential sales opportunities, and it is important that you make sure that you are taking advantage of them as they come. There is not one right way to follow up with a potential customer or client at a trade show, you just have to choose the one that would be the most convenient for the client.
Conclusion
Even though the thought of a trade show can seem to be extremely overwhelming, there are things that you can do in order to set yourself up for success. If you remember these three tips at your next trade show, you will be able to see the fruits of your labor. Good luck!